(1959 dj, Little, Brown & Co–jacket by Samuel H. Bryant, photo Harold Horwood, signed for a friend Barbara)
(enclosed Xmas card for Barbara; Carlos Marchiori design, Hallmark)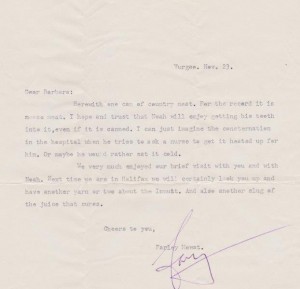 (enclosed letter for Barbara as well)
(left: 1962 dj, Michael Joseph; drawings by Frank Newfeld, and wrapper by Bruce Drysdale; right; 1962 dj McClelland & Stewart; illustrated by Victor Mays)
(left: the 1963 Lewis Parker jacket Mowat disliked causing the book to be recalled by M & S; subsequently released with the right, red dj preferred by Mowat–rare signed by Mowat; the book was later made into a successful Disney movie directed by Black Stallion director Carroll Ballard)
(1972 dj, McClelland & Stewart, NF's David Blackwood cover; another book turned into a movie–the 1981 Playboy/Playhouse/CBS/Fox/Lorimar VHS)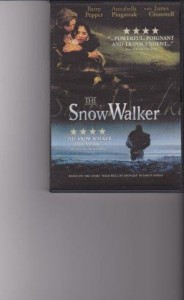 (from Mowat story "Walk Well My Brother'", 2003 Lions Gate; Charles Martin Smith who starred in the Never Cry Wolf movie wrote and directed this one)
Born in Belleville, ON, Farley McGill Mowat (1921-2014) was educated at U of T, and wrote some 45 books which sold 17 million copies in 52 languages in 40 countries, making him our most financially-successful international author and most-read author for a long time.
Mowat was a controversial, ornery chap with strong opinions he seldom abandoned. He denounced Canada's treatment of the Inuit in his first book People of the Deer, published in 1952. Mowat also sided with animals as can be seen in books like Owls in the Family (1961), A Whale for the Killing (1972), The Dog Who Wouldn't Be (1957), and Never Cry Wolf (1963). He wrote books for children like his GG winning Lost in the Barrens (1956), many which made their way onto school curricula.
Mowat lived a full life and had few regrets. After he died in Port Hope, ON, Margaret Atwood and her husband Graeme Gibson took out a full page ad in the Globe and Mail saluting his unique character and many achievements. I admire the way he was "very much his own man" always.