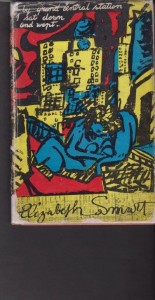 (By Grand Central Station I Sat Down and Wept, a rare 1st ed. Editions Poetry London dj; design by Gerald Wilde)
Elizabeth Smart (1913-1986) was born into a prominent family in Ottawa who did not approve of her long, rough affair with the married English poet George Barker, with whom she was long-smitten and with whom she bore several children. She briefly worked for the British Ministry of Defence when she was in England with Barker until she was fired.
Her mother did her best to suppress her daughter's work by buying up and burning any copies that made it to Canada of her passionate U.K. novella By Grand Central Station I Sat Down and Wept (only 2000 copies were ever printed; one of which is seen above). Smart was writer-in-residence at U of AB ('82-83) and later died of a heart attack in London and was buried in Suffolk, UK.
More information about her work and life can be found in a documentary Elizabeth Smart: On the Side of the Angels and an interesting biography Elizabeth Smart A Life by Rosemary Sullivan.