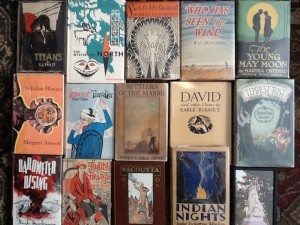 (*To enter site per se, click the light white CanLit Blog link above, on the black border.) Once you are 'in', you can scroll up or down, or go 'into' individual entries, scrolling backward or forward by individual entries.  ps/Ignore any security warnings when opening images/pictures–this is a safe site. Open any one picture and they all open!
BTW/ If you enter: canlitbooks.ca   on Google Images, you will see pages of many images of dust jackets, ephemera, and photos from my site at a glance. That might help you to decide if you want to explore further here or get you to specific images of interest more easily.
N.B. Clicking on any one picture/photo, opens all the pictures.
Sept. 24/2015 Update
With traditional Canadian culture via declining government data and basic survey courses in Canadian literature disappearing, this blog's purpose becomes even more important and necessary. It has become almost impossible online and in university courses to get any kind of overview of CanLit history, especially of major authors (born between 1792 and 1952) and their works from the mid-1800s into the late 1990s.
The federal government and universities have all but abandoned archival history of our country's literature via a decline in institutional records, deleted information and resources, leading to what is basically now a national amnesia about our literature and its place in historical/cultural consciousness.
On this blog, though, readers and students can find basic information, knowledge, and overview that has been lost thanks to deep government budget cuts and the disappearance of CanLit within the curricula of secondary and post-secondary English courses. CanLitBooks.ca is a non-commercial literary and historical record of a large, significant information loss since 2000, that has happened in Canadian institutions and culture.
Richard Davies
Edmonton
………………………………………………………..
Original Introduction
Canlitbooks.ca is an ongoing labour-of-love blog project dedicated to displaying and sharing key images and information about pre-21st-century-English-Canadian literature (though some key French-Canadian authors are highlighted), books, and authors. Originally, in the first decade of the new millennium when I began this project, it was intended for book publication, but it then 'got too big' and more significant; my collection includes audio-visual items, autographed items (you'll see many authors' signatures, photos and rare ephemera, as well as dust-jacketed books), ironically at a time when an audience and demand for such a specialty Canadian project had become smaller, and as the teaching of Canadian literature in schools had begun to decline or simply disappear after a three-decade, high-profile run. There is, then, simply put, a total dearth and absence of such a study resource anywhere out there online.
Notably, many of the unique images here are being displayed online for the first and likely only times. (*These images are, incidentally, my personal photographs or scans of items in my own CanLit collection.) Along the way, too, I will try to provide some basic, core, and interesting details about the writers and the works referenced here so that readers can make their own judgements about who or what interests them.
Chiefly, then, it is my intention to create more public awareness about our country's earlier literature, and to create more understanding and appreciation of the same. Most Canadians today are simply unfamiliar with Canadian writers and books, especially the older and classic ones. This chronological blog is an online resource to turn to for a handy visual context and overview of our country's literature, its developments, and important books, writers, and artists.
As such, it is a product of my research and is offered for others' research, private study, and educational use. It presents information to help others to form their own opinions about the merits and quality of the authors and works discussed or mentioned. (This site is also my Thank-you–a small way of giving back to many English-Canadian authors and artists for all the pleasure and delight I have obtained from my life-long contact with them. It is, thus, in retrospect, an appreciation.)
Most of the authors and books mentioned here have disappeared from memory, and will continue to disappear from memory as will those fewer Canadians still familiar with or interested in  them disappear themselves. This blog is mainly a visual literary history and an online way of preserving the memory of these many Canadian books, writers, and artists. It is also hoped, incidentally, that readers of this blog will become more interested in CanLit, pursuing and purchasing titles and works by Canadian authors and artists, old and new, on their own.
Please note: None of the material here is for sale; it is offered for non-commercial use–for educational information, illustration, and study purposes only. The blog is also Read-Only.
Reader questions and responses (as well as missing or correct/ed information) are always welcome and can be directed to me at Richard.Davies@shaw.ca. (If you do not wish for an image to be included here on this totally non-commercial Canadian literary record/overview, ask and it shall be removed.)
I sincerely hope you will enjoy and derive pleasure from the blog and come to a better understanding and appreciation of selected vintage, once-popular, and landmark CanLit and Canadian authors, many long gone, but remembered, celebrated, and shared here at this very unique Canadian site.
(*To enter site per se, click the white CanLit Blog link above, on the black border.) ps/Ignore any security warnings when opening images/pictures–this is a safe site.
…………………………………….
Further Info
The Addendum that follows this entry features a number of important writers born before 1952 who had been missed in the original lineup which follows 25 entries down/ago. (*If you want to read the entire Addendum in chronological order, that is where you would start.: Feb. 15, 2016.*)
*The long main original lineup is also arranged in chronological order, so if you want to read it from start to finish, you need to go back to Oct. 27, 2014.
(As mentioned above, I wasn't interested in going beyond older CanLit and Can writers who were born in 1952 or later. That is where my own particular collection and interests in CanLit end, though you will still see books which have been published into the 21st century and writers still who are still alive today in 2016.)
………………………..
More on What Led to This Blog
This blog started shaping itself in 1967-1968 when my wife and I took a senior English course in Canadian Literature at the University of Winnipeg (formerly United College) with Professor Walter Swayze who was familiar with a fair number of Manitoba and Canadian writers at a time when CanLit was on the rise in post-Centennial consciousness. Subsequently, I wrote an article on "Canadian Content" for my ED CI professor-friend R. Glenn Martin which was published in Alberta English, spring 1972 issue, Vol. 12, No. 2.
Later in Alberta, as in other provinces, there was a lot of interest in studying and teaching our nation's literature, something reinforced by Alberta's recommendation of 1/3 CanLit content in grades 10 and 12, and 50% in grade 11. As a result, I used many Canadian poets, stories, and novels in my courses with longer titles including Who Has Seen the Wind, Never Cry Wolf, and my favorite A Bird in the House. As I became a prolific textbook author and editor, I naturally had to be familiar with more CanLit and was introduced to many Canadian writers, who I, in turn, introduced to Canadian teachers and students in every province.
The unfolding process continued after I retired and, in about 2005-2006, I started collecting old CanLit books (especially those with dust jackets, signatures, and ephemera). As stated on the home page, I had intended doing a book, but times changed and that led to this passion and dream being fulfilled via this website/blog.  My own experience and background paved the way to this project and sharing it with you–readers likewise curious about and interested in Canadian literature.
……………………………………..
Some Other Good Canadian Writers (not included in the blog) with Bodies of Work Worth Investigating and Reading
Below are some of the other good Canadian writers in my 25 or so textbooks (born in 1952 or earlier) that I was honoured and privileged to select from and to represent their works. They resonated with students and teachers alike, and I sincerely hope they won't be overlooked or forgotten in the wake of my main chronological blog of more major or important writers. They also represent the many regions and cultures of Canada. (N.B., I have rounded out this list with some other writers born before 1953 I have read and likewise respected.)
Douglas Barbour
Arthur Black
Christie Blatchford
Roberta Bondar
Roo Borson
George Bowering
Harry J. Boyle
Barry Broadfoot
Charles Bruce
Bonnie Burnard
Elspeth Cameron
J.M.S. Careless
Wayson Choy
Lesley Choyce
Dennis Cooley
Thomas B. Costain
Robert Currie
Frank Davey
Louis Dudek
Gwynne Dyer
Brian Fawcett
Sheila Fischman
David French
Robert Fulford
Connie Gault
John Glassco
Charles Gordon
James Gray
Peter Gzowski
Arthur Hailey
Anne Hebert
Tomson Highway
Robert Hilles
Hugh Hood
James Houston
Stephen Hume
Paulette Jiles
George Johnston
D.G. Jones
Susan Kerslake
Glen Kirkland
Gary Lautens
Douglas Le Pan
Norman Levine
Malcolm Lowry
Robert MacNeil
Antonine Maillet
Eli Mandel
Jack McClelland
Nellie McClung
Florence McNeil
Rohinton Mistry
Robert Munsch
Howard O'Hagan
Eric Nicol
Desmond Pacey
Gilbert Parker
Al Pittman
Major John Richardson
Erika Ritter
Spider Robinson
Leon Rooke
Andy Russell
Lois Simmie
Robin Skelton
Ray Smith
Steve Smith
Glen Sorestad
Andrew Suknaski
Rosemary Sullivan
David Suzuki
Anne Szumigalski
Maxine Tynes
Guy Vanderhaeghe
Tom Wayman
Rudy Wiebe
Budge Wilson
George Woodcock
……………………………..
Some Recommended Classic CanLit Reference Books That Were Helpful in Making My Choices
The Oxford Companion to Canadian History and Literature–Norah Story; Oxford University Press, 1967
Supplement to the Oxford Companion to Canadian History and Literature–ed. William Toye; Oxford University Press, 1973
The Oxford Illustrated Literary Guide to Canada–Albert & Theresa Moritz, Oxford University Press, 1987
Canadian Literary Landmarks–John Robert Colombo; Hounslow Press, 1984
Canadian Anthology–Klinck & Watters; Gage, 1966
The Canadian Encyclopedia–the great Mel Hurtig, 1985
Canadian Poets–ed. John Garvin; McClelland & Stewart, 1926
Canadian Singers and Their Songs–ed. Edward S. Caswell, McClelland & Stewart, 1919